Newsletter #17: February 2018
Autism 30 February 2018 Newsletter
Connection of Love & Family

February reminds me to connect with special people. Valentine's day, a holiday to celebrate couples, and if you are single love for oneself. Family Day, to enjoy the day with all the members of your family. I know some may think that we should do this every day and don't necessarily need an official holiday. I like the reminder that when life gets too busy society will remind you to take pause and remember those closest to you.

To you our Autism 30 family I hope all of you have beautiful moments to cherish with your loved one this month.

Upcoming News:

We will be recording more Parent Talk Podcasts soon, which will go live on April 1st and 2nd. Please don't forget to email in your questions that you want answered. Remember this podcast is for you. You may hear your question answered on our podcast. I also thank those who have already done so.

Upcoming podcasts:

On February 15th and March 1st we are so fortunate to have the fabulous Mr. Alexander Magnusssen in studio. What an informative and entertaining Community Member who's not only a brilliant Public Speaker but is also changing ground for autism here in Canada. Not to be missed.


​
Talie
"Live in Love"
PAFN
Events in February
Connections: A Young Adult Social Club
When: Thu, 15 February, 18:00 – 20:30
Description: Come hang out in our life skills lounge, play games, watch Netflix, eat pizza and make friends! Ages 15-29 Meets once a month on every 3rd Thursday of the month. $5 Donation Suggested. For more information or to RSVP, please call our front desk team at 604.207.1980.

PEERS - Parents & Teens aged 12-13 - Helping Teens with ASD Make & Keep Friends
When: 15 & 22 February, March 1st 18:30 – 20:00
Description: Helping Teens with ASD Make & Keep Friends
For teens with ASD who want to initiate and develop friendships
About the program:
Using the PEERS evidence-based social skills program and facilitated by POPARD consultants with PEERS certification, teens and their parents will meet in separate groups during this 14-sessions program. The tee group will go through the lessons and role plays while parents learn strategies to support their teen at home. Topics include two-way conversation,get-togethers and more.
Date: Thursdays, February 8 – May 24, 2017 (no sessions on March 22 and 29)
Time: 6:30 – 8:00 pm
Admin Fee: $100
Who attends: Parents& Teens aged 12-13

(acceptance is subject to an intake interview for program suitability)

PAFN Employment Club
When: 16 & 23 February, March 2 10:00 – 12:00
Description: Come network and meet with other individuals on the spectrum looking for work. Hear about employment programs and supports, share job finding tips and support each other in your employment journey! Please RSVP to

[email protected]

com

LEGO Jurassic Brick Land!
When: Sat, 17 February, 10:30 – 12:00
Description: LEGO Jurassic Brick Land!
Are you ready for the adventure of a lifetime? Put on your hiking boots and camouflage…you're about to enter Jurassic Brick Land! We'll build amazing dinosaurs that lived during the Jurassic period and other extinct prehistoric animals that roamed the earth and swam the seas. All students go home with a custom-made Minifigure. We do our best to ensure a safe, fun, and energetic environment for all children participating in our programs, but please be aware that we will be working with small parts that may become a hazard if ingested.
Age Range: 6 – 10 Dates: Saturdays, January 20 - March 3 (Break for Family Day long weekend on Feb. 10) Times: 10:30 am - 12 noon Place: The AutismBC Lending Library at the Pacific Autism Family Network Centre Program Fee: $120/6 Sessions For more info contact:
[email protected]
REGISTRATION:
https://autismbc.z2systems.com/np/clients/autismbc/event.jsp?event=305


PEERS - Social Skills Group for Teens & Young Adults (ages 13 - 24)
When:Wed, 21 & 28 February, 16:30 – 20:00
Description: Two Social Skills Groups for Teens and Young Adults with ASD
Weekly on Wednesdays from Feb 21 to June 20 (break on March 21 & 28)
2 groups
Social Skills Group for Teens (ages 13 – 18): 4:30pm to 6:00 pm
Social Skills Group for Young Adults (ages 18 – 24): 6:15pm to 7:45 pm
PEERS© is an evidence-based, social skills intervention program for motivated teens and adults who are interested in learning ways to help them make and keep friends. During each group session, young adults are taught important skills and are given the opportunity to practice these skills in session during socialization activities. Caregivers attend separate sessions at the same time and are taught how to assist these young adults in making and keeping friends by helping to expand their social network. Caregivers will also be provided with feedback through coaching during weekly socialization homework assignments. For more information or to register, contact: Connie Ng, ABLE Developmental Clinic at
[email protected]


Minecraft Club
When: Thu, 22 February, 17:30 – 19:00
Description Hosted by
Autism BC
and
Pacific Autism Family Network

Run by a parent volunteer, Minecraft Group is an inclusive space for Minecraft enthusiasts to come together and play! Our mission is to inspire connection through sharing tips, tricks and playing together!

Who? All are welcome! Players should be able to log themselves in and have a basic understanding of the game as this is a come together space and no formal Minecraft instruction will be offered (except from the person beside you who may be able to lend some tricks!) At this beginning stage, you should bring the portable device that you play on (iPad, laptop, tablet) FREE Wifi is available!

We are capped at 20 Minecrafters for the space so please RSVP to

[email protected]

if you'd like to attend.

POPARD Conference
WhenFri, 23 February, 08:00 – 16:30

Sharing Smiles Day 2018
When: Saturday, 3 Mar 2018
Description: Come learn about how to keep your smile healthy with brushing demonstrations and fun interactive games from UBC Dentistry students and dentists from your community. Please sign up with the following link as soon as possible since this popular event is sure to fill up quick!
https://goo.gl/forms/BzN4b0qEjR43y18Z2

Pokemon Club Juniors
WhenSat, 3 March, 15:00 – 16:45
WherePacific Autism Family Network, 3688 Cessna Dr, Richmond, BC V7B, Canada (
map
)
DescriptionA new Pokémon club for 6-14 year olds is her at the Pacific Autism Family Network! The club is a place for kids to come together and socialize about a common interest. Kids can bring their Pokémon cards, games, Nintendo DS, stuffies, toys, clothing, costumes, or anything else Pokémon related. Kids that are new to Pokémon also welcome! When: First Saturday of every month Time: 3:00 – 4:45 pm Where: Pacific Autism Family Network 3688 Cessna Dr, Richmond, BC For questions or to add yourself to the email distribution list, please email:

[email protected]
​(
Podcast
dated: April 1st & 2nd, 2017)
Autism BC
February
BI Basic Training Workshop - Cranbrook
Saturday, February 24 to Sunday, February 25


Join us for a two-day training workshop on the implementation of autism behaviour plans. You will leave this course with knowledge and practical tools you can use in the classrooms, or home environment. Past attendees have included, parents, community group leaders, students, educators, classroom assistants and other individuals who work with/support children with an ASD diagnosis. Upon completion of this 2-day course you will be sent a certificate to confirm your attendance. This course counts towards 14hrs of BI training.




Topics to be covered each day include:


Day 1
Core elements of discrete trial teaching
Functions and behaviour
Reinforcement techniques
Prompting techniques
Process of teaching from introductory to generalization to mastery
Ethics
The process of accurate data collection
Day 2
Antecedent and established operations
Reinforcement assessment of preference
Token economics
Prompting and prompt-fading strategies
Teaching techniques
Analyisis of data
Peer play facilitation
Maintenance and generalization of learned skills
Venue: TBA
Cost: $100 (AutismBC members) and $125 (Non Members)
(To check your membership is up to date please
login
, or alternative register for FREE membership
here
.)
REGISTER FOR YOUR PLACE TODAY
Meet your instructor: Julee Bassetto, is a Behaviour Consultant with over 9 years of experience. She has worked with people 21 months old to 27 years old on all areas of the autism spectrum and has been delivering BI training workshop for AutismBC for many years.
Please note: Morning refreshments will be avaliable both days, but participants are responsible for their own lunch. Lunch break is usually approx. 1hr.
​

If you would like to meet Ms. Janet Walmsley author of the book: The Autistic author and Animator: A mother's view of a daughter's triumph & Ms. Jenny Story author of the book: Dysnomia you can!

They will be signing their books on Saturday, January 27th, 2018 January 27th at Indigo Book Store. The address is: 810 Grandville Street and they'll be there from 1pm to 10pm.

Lovely women to meet in person and proud members of our community.
Mayday Club Youth Choir For Neurodiversity



When: February 21st, 18:30 – 20:00

Where: Pacific Autism Family Network Hub - 3688 Cessna Drive, Richmond
​
Description: Do you know a child, teen, or young adult who loves to sing or dance, and would benefit from meeting an empathetic and team-minded peer group, but struggles in social settings? Who would enjoy being mentored by like-minded young adults, and being part of an award-winning performance crew? The Mayday Club Youth Choir for Neurodiversity is now accepting applicants of all ability levels, between the ages of 5 and 30, to be part of our choral singing and hip-hop dancing performance crew for 2017 / 2018. Train under some amazing instructors, make friends, and tour the province to build confidence, and advocate for a cause you believe in! Visit us online at www.maydayclub.ca

To apply, fill out our online application form, which can be found here: https://www.surveymonkey.com/r/VT8PWWV

(Podcast dated: January 1st, 2018)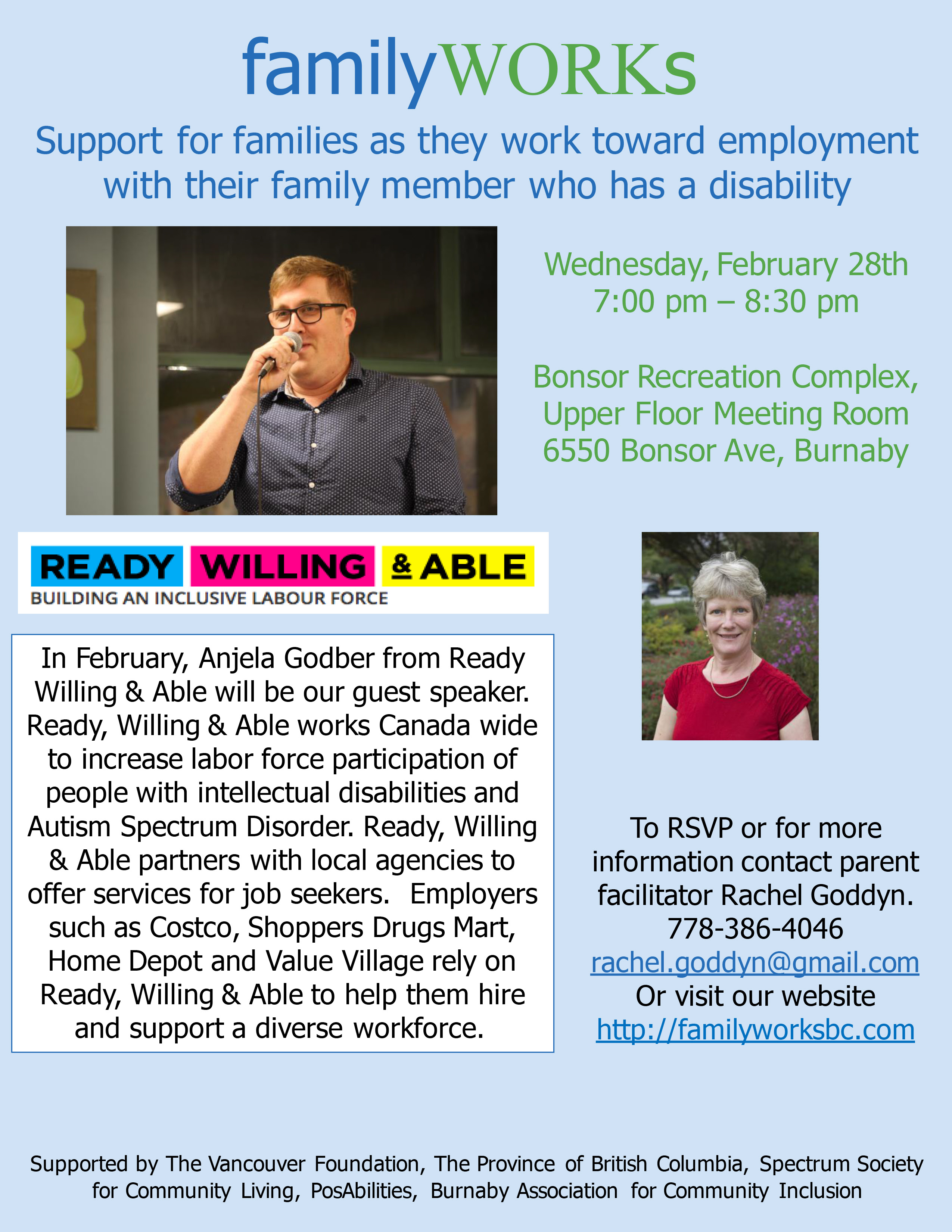 CBI Consultants News
​
CBI Consultants is happy to announce that we are now selecting participants for the first TeenWork Canada program starting in February.
TeenWork Canada is a program offered by CBI Consultants in Vancouver and CanAssist/University of Victoria in Victoria that provides the opportunity for youth with disabilities and/or who require mental health supports to secure successful and meaningful part-time employment while they are attending school. We will support participants in their search for employment through Group Based Employability Skills (GBES) and Employability Skills through Work Experience (ESWE).

The program is 41 weeks in length and the participants will attend group sessions twice a week (15 weeks) which will help them develop their skills and talents and discover their Ideal conditions of employment, For the remainder of the program (26 weeks) we will support the youth to successfully acquire and succeed in an employment opportunity.
ELIGIBILITY CRITERIA
To be eligible for the TeenWork Canada Program, participants must:
• have a disability and/or who require mental health supports
• be between 15 and 19 years old
• have a desire and motivation to work
• be currently attending school
• have access to reliable transportation
• be independent in personal care

Participants must demonstrate:
• ability to work and participate in a group setting(groupof10)
• ability to follow simple instructions and direction
• ability to work independently in a classroom setting
• availability and motivation to attend all sessions
• ability to complete classwork as required (with support as needed)

For 2018 we are excited to offer two intake opportunities;
Intake one- February 2018
Intake two- July 2018
With two additional intakes in 2019

​ Please email Chad Bouchard, Self-Determination and Employment Coordinator if you are interested in attending an information session or if you have more questions on the program.
[email protected]
This is another one column text block.

(Podcast dated: January 15th, 2017)
Events in January for inGIRLSCLUB

OK GC - Bubble Wonders!
Sunday, February 18, 2018 (10:00 AM-12:00 PM)
Every girl will have the chance to be in a bubble!
http://yoursquarebubble.com/
LM GC - Movie Matinee - Wonder Woman
Sunday, February 25, 2018 (11:30 AM-2:30 PM)
Join for a matinee of the critically acclaimed Wonder Woman movie.
They'll have pizza for lunch and popcorn for movie snacks. Feel free to bring a blanket or pillow or anything that makes you comfortable while you watch a flick!
You can dress up as Wonder Woman, or just come in your comfy movie-watching clothes. It's up to you!

PARENT WARNING: This movie is rated PG-13. We picked it because Wonder Woman is a strong female role model, and the movie is excellent. It has been called an "engaging, entertaining, empowering superhero adventure." If you have concerns about the movie's content, please visit:
https://www.commonsensemedia.org/movie-reviews/wonder-woman#

(Podcasted dated: May 15th, 2017)
Quote of the month: "Autism offers a chance for us to glimpse an awe-filled vision of the world that might otherwise pass us by."
​

By: Dr. Colin Zimbleman, Ph.D.